Plotting
Plot serial data in real time
Logging
Log data to a text file
Mapping
Show coordinates on a map
Interface Panel
Create an interactive GUI
Table
Show values in an updating table
Serial Monitor
Monitor a stream of serial data
Thanks! I no longer need to install hardware switches, it's so easy to just use the interface panel.

— Vesku

MegunoLink is a very useful product to rapidly create interactive interfaces when your application needs to display data and simple controls.

— Luca – Lucadentella.it

Megunolink has proven to be a useful piece of software. It gives you a friendly and powerful connection to all the data from your microcontroller, and also a simple GUI for control via serial.

— John Boxall – Tronixstuff.com
Overview
MegunoLink Pro is a tool designed to aid embedded electronics designers. From hobbyists using the Arduino platform to commercial engineers using PIC or TI micros. MegunoLink provides a set of tools to help visualize serial data and investigate what is going on inside that piece of silicon. MegunoLink is made up of a set of visualizers that each have a unique function and any number of them can be utilized at once. With these visualizers and our functional tabbed and docked interface you can create a full control center for your embedded project. Plot, log and monitor serial streams from both hardwired, bluetooth, and network based (UDP) devices.
Benefits
Docked and tabbed visualisers allow for a completely customizable interface.
Our Connection Manager visualizer allows you to manage multiple connections to serial ports (wired or bluetooth) or UDP network devices.
Plot time based data, either time-stamped by the PC or by the micro-controller itself using our Time Plot visualizer.
Plot arbitrary x and y data using our X-Y Plot visualizer.
Log or monitor serial data from any connection. Megunolink also features a unique channeling system which allows you to selectively monitor or log data. Perfect for filtering out clutter from your serial stream.
The Table visualizer provides a tabular way to display incoming streams of data. Perfect for monitoring a set of variables inside the micro-controller.
Our Mapping visualizer will take a stream of coordinates and draw on a map where they are coming from. Great for setting up a location aware sensor networks.
The Interface Panel lets you prototype a graphical interface with buttons, numerical sliders, and text-boxes.
Program Arduino devices with hex files generated using Visual Studio Express or Atmel Studio
Automatic updates.
Check out the demo video below and download the demo Arduino Program here.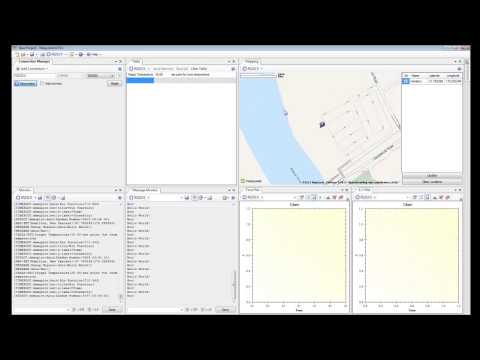 System Requirements
Modern Windows platforms (XP/Vista/Win7/8)
.NET Framework 4.0
Visual Studio 2012 requires .NET Framework 4.5, this means our Visual Studio build tool is not compatible with Windows XP